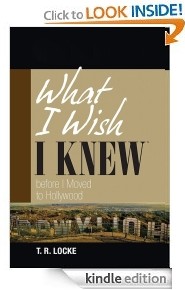 Every year 111,000 people move to L. A.–many of them looking for success in the entertainment industry. Tens of thousands audition for American Idol, America's Got Talent, X-Factor and other talent shows hoping to break into an industry most only think they know. My goal is to help them know it better so that they have a better shot at their dreams.
On March 7th, I released the 2nd edition of What I Wish I Knew Before I Moved to Hollywood exclusively on Kindle. The new edition contains new interviews with an Emmy-winning producer and Film-festival winning screenwriter/director along with the interviews with Grammy-nominated singers, platinum-selling producers and award-winning movie and TV stars. The new edition is available for only $4.99, which is about a 1/3 the paperback price.
To help spur interest in the new edition's release, I'm giving away 12 autographed copies of the 1st edition paperback in a contest on Goodreads (Click here to enter).  The contest runs through May.
If you know or care about anyone even thinking about a career in the entertainment business, no matter where they are in the process, get them this book. The title is What I Wish I Knew BEFORE I Moved to Hollywood, but the information is good for people already in Hollywood, too. What does it take to keep going?  How do you get seen? How do you get booked? How do you stand out?  What is your voice? Your niche? Your type?  And how do you stay encouraged in the hard times? Every year 111,000 move to L. A.  But every year 100,000 move away–many dejected, frustrated and sad. Those are the ones who didn't read this book.
What's it take to make it as a singer in Hollywood–read what Chante Moore had to say about it in my book. Trying to be comedian? Read what a standup comedian and writer for Steve Harvey, D.L. Hughley and Bernie Mac says. Want to be a producer? See what the Emmy-winning producer has to say. Want a directing/screenwriting/development deal at HBO? My interviewee had one.  Want to be an actor? Find out what a star who makes $250,000 a week says about how to become one. Want to do make-up? Find out what the head make-up artist for one of Fox's hit dramas says you should do. Want to rap or make beats? Find out what Dr. Dre and Ice Cube's go to guy says.
Artists love to act like they have it all together–keep a smile, be positive, stay away from negative energy. That's all great. But are you getting where you want to go? If not, it smart to get help when you need it. It's one thing to make others think you have it all together; it's quite another to fool yourself.